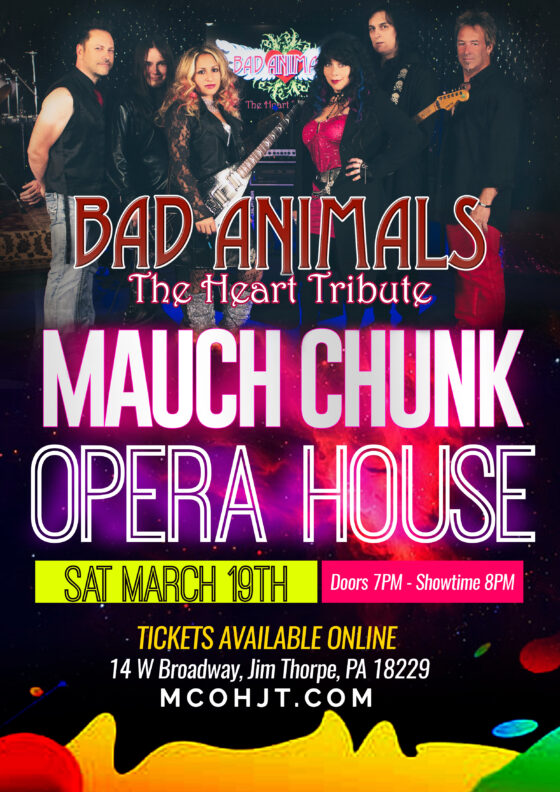 Bad Animals @ Mauch Chunk Opera House!
Date:

March 19, 2022

Time:

07:00

Location:

Jim Thorpe, PA

Venue:

Mauch Chunk Opera House – 14 W Broadway, Jim Thorpe, PA 18229
Bad Animals – The Heart Tribute at Mauch Chunk Opera House!
March 19th, 2022
Show Time: 8:00 PM
Doors : 7 PM
Founded in 2001, this artistic tribute to Heart is performed by Bad Animals, who are the next best 
thing to the real thing!
For over four decades, Ann and Nancy Wilson of Heart, who were 
inducted into the Hall of Fame in 2013, have created some of the most diverse music in rock and 
roll. 
Bad Animals
, an international tribute act based in New York, recreates this incredible 
authentic Heart experience. This talented group, having received rave reviews, shared their story 
with the Wilson sisters. Ann told lead vocalist Daena D, "Have fun with it!" Following Ann's 
advice, they are having a whole lotta fun playing Heart's most memorable tunes.
Since Heart has such a large catalog of well-known songs, Bad Animals decided to highlight 
Heart's biggest hits into a few different show specialties. Their live production shows include a 
powerful headlining core performance, an 80's and a 70's review featuring specific hits from 
each decade with inspired (by Ann and Nancy) period clothing.
Don't miss your chance to see 
Bad Animals 
LIVE !