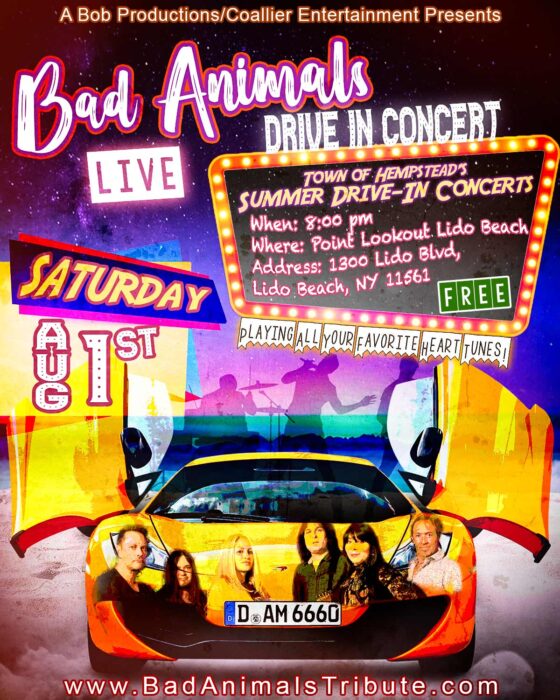 Bad Animals – Our 1st Drive in Concert !
Date:

August 1, 2020

Time:

08:00

Location:

Town Park at Point Lookout

Venue:

Point Lookout Lido Beach – 1300 Lido Blvd, Lido Beach, NY 11561
Event Information
All movies and concerts are presented free of charge and open to Town of Hempstead residents only. All events are "drive-in" only. Guests must remain in their vehicles during the event except when visiting the restroom or disposing of trash.
Vehicles will be admitted to the parking lot on a first-come, first-served basis, beginning at 7 p.m. Staff will guide vehicles to next available parking spaces. Every other space must remain vacant for social distancing purposes. No tailgaiting of any kind permitted.
For everyone's safety, vehicles may not be moved once the event begins.
Because of social distancing requirements, attendees are required to wear a mask at any time that they leave their car. Masks must be worn when a six-foot distance from other groups cannot be maintained.
An FM transmitter will allow audio to be played from any radio. On the evening of the event, attendees will be advised which FM station to tune into on their car radios.
Movies will commence at dusk. Movies are subject to change and will be held. 

(weather permitting)

All concerts will begin at 8 p.m. and will be held at Town Park Point Lookout. 

(weather permitting)

For more information, please visit hempsteadnny.gov or call (516) 292-9000, extension 7480.